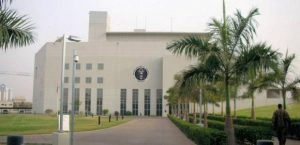 The Federal Government has released the seized mine-resistant military vehicles to the United States government.
The vehicles were intercepted along Nigeria-Cameroon border two months ago by a Nigerian joint border security team after they crossed into the Nigerian territory without authorisation.
The all-terrain vehicles were temporarily held at a military check point in Konkol village and transferred to the Nigeria Customs Service office in Yola.
Handing over the vehicles to officials of the US Embassy in Yola yesterday, the Customs Comptroller in charge of Adamawa and Taraba states, Kamardeen Olumoh, said the hand over was a sequel to a directive from the National Security Adviser.
"I am directed by the National Security Adviser to comply, release and hand over the vehicles to the American government", Kamardeen noted.
Receiving the equipment on behalf of the American government, Kathleen FitzGibbon, the Deputy Chief of Mission, Embassy of the United States of America in Nigeria, said the vehicles were on transit to Niger Republic for a security mission when they were seized by Nigerian forces.
"Nigeria and America have good relations and understanding and the vehicles were on route to Niger Republic for a security mission " FitzGibbon said.
She commended the Nigerian authorities for their understanding and proper handling of the seized items, saying an American Air force carrier would transport the vehicles to Niger Republic. The event was attended by Nigerian senior military officers as well as American military and security attaches.